St Louis

Missouri
Vintage Soda Machine
Restoration, Sales and In-Home Service
Let Grand America Jukebox Restore Your Vintage Coca Cola Machine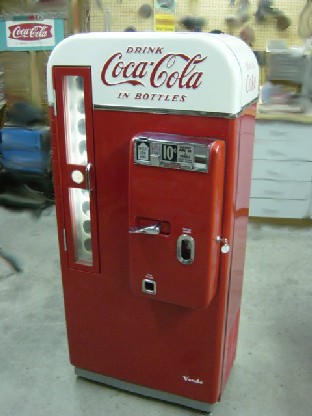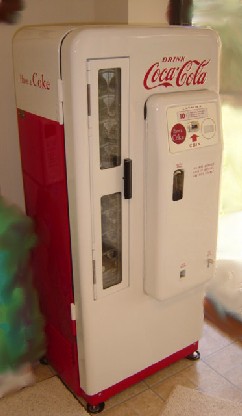 Coca Cola Vendo model 81D and Cavalier model 72 we restored for our clients
Please visit our NEW website
NEW Website Vintage Soda Machines For Sale
What Machines Do We Repair? More About Restorations
What You Need Before You Call Samples Of Our Work
Vendo History & Serial Numbers
Cavalier History & Serial Numbers
Click These Links To See Specific Models
Coke V-39 Coke V-56 Coke V-81 Pepsi VMC-81 Coke V-83 Coke V-110 or 6-CV
Coke C-72 or C-96 Coke WD or WH-12 Glasco or Ideal Slider
Coke or Pepsi 56 Square Corner Coke V-63

Updated 6-2-2014
Grand America Jukebox performes
Vintage Soda Machine Restoration
Vintage Soda Machine Repair
Vintage Soda Machine Rentals
Vintage Soda Machine Sales
Grand America Jukebox is a restoration and repair service company
Grand America Jukebox can perform a Coke / Coca-Cola or Pepsi Machine restoration for you!
Whether you are looking for that vintage decor or just wanting a functioning conversation piece, having a Vintage Soda Pop Machine in your home will satisfy everyone. It's a thrill to drop a coin in and have your favorite beverage vend out. Soda machines can be filled with many different types of beverages: soda, juice, water, beer and others. Most bottle soda machines will vend more than one selection and can be adjusted to vend different diameter and lengths of glass bottles. We can convert some bottle soda machines to vend 12 oz cans or the new Mexican 12 oz Coke bottles as well
Restoration or Partial Restoration?
A Typical Soda Machine Restoration Consists Of:
New insulation

Gaskets

Door liner

Decals

Plastic as well as glass windows

Leg levelers

Fan motor(s)

Thermostat

ALL NEW wiring

If possible,

the original compressor is restored

for re-use or

w

e retrofit

old

soda machines

with

new compressors

and assemblies

for YEARS of continued use

All metal castings are chrome plated

Every piece is disassembled and restored

Cabinets are stripped or beadblasted

Body work

is performed

Automitive quality paint finishes are applied

A full soda machine restoration can take 2 + months

We can restore your entire soda machine or just a portion if you wish

Can you get bottled soda?

Bottled soda is available in many different flavors including the major name brands. There are many different places to get them as well. Contact us for more information.

We can pick up your soda machine in our enclosed trailer. You can always drop off your soda machine here in St Louis, MO. Or you can ship it to us
FREE photos of your soda machine restoration!
We provide

FREE

digital photos during your soda machine restoration showing the entire restoration process.
All Grand America Jukebox soda machine technician's carry a degree in Air Conditioning / Refrigeration as well as a Refrigerant Usage Certification through RSES (Refrigeration Service Engineers Society) as required by law
A Typical Partial Restoration Consists Of:
We clean your machine, inside and out

Replace most if not all gaskets

Clean your compressor

(as long at it passes our bench test)

Replace fan motors, thermostat and power cord

We go through the vending mechanism

We will clean your original paint, buff and wax if possible
---
We Restore and Service the following Vintage Bottle Soda Machines :
Vendo Coca Cola Machine Repair and Restoration
Vendorlator Pepsi Machine VMC Repair and Restoration
Cavalier Coca Cola Machine Repair and Restoration
Ideal slider Repair and Restoration
Westinghouse Coca Cola Machine Repair and Restoration

Glasco Coca Cola Machine Repair
We are a service and repair business
We will ONLY sell parts if we are installing them
We DO NOT work on Push Button Can Machines
If you have a Soda Machine that vends Cans or Plastic Bottles and are in need of service
please click this link
Soda, Candy, & Snack Vending Machines
and speak with Andy Hayes of American Vending Machines. They restore and service Soda Machines manufactured within the last 15 years
Please have the following information gathered before you call us:
Description of your item

( example: Coke machine, Pepsi machine, etc. )

Manufacturer of your item

( Name brand, who made it? Vendo, VMC, etc. )

Model number of your soda machine

( Manufacturer and model number can be found on a metal tag on the back or side of your soda machine.

Contact us for further assistance. )

Description of your problem
Contact us at 636-928-1010 or e-mail doc2stat@yahoo.com
---
Here are some samples of the work Grand America Jukebox has accomplished
VMC 81 Pepsi machine restoration
Before After
1950's Vintage Vendorlator Pepsi 81 soda machine, before and after. In many cases the owners ask us for a "Two Tone" paint scheme. Changing a few things makes the soda machine stand out far more than the factory paint scheme
Coin Mechanism Restoration
Before After
The coin mechanism area of the Vendorlator 81 before and after. Grand America Jukebox disassembles each part by hand. The coin mechanisms are yellow zinc plated. Everything in the soda machine looks and works much better then the factory assembly
Pepsi 81 Restoration
Before
After
Inside and out, Grand America Jukebox details each vintage soda machine thoroughly. All pieces are media blasted and refinished by hand
We can fully restore your V-81 starting at $6695.00 est
Or, we can partially restore your V-81 starting at $2595.00 est
---
Coca Cola machine restoration
Vendo 39
Before After
Vendo 39 restoration before and after. This V-39 had been in a house fire. Grand America Jukebox completely disassembled, media blasted, performed body work and applied a two-tone automotive quality paint finish. Coke and Coca-Cola soda machine restorations are our specialty
Vendo Coke Machine Restoration
Before
During After
Inside of the Vendo Coke 39 soda machine after the fire, after media blasting and after a Grand America Jukebox restoration. The original compressor was in pretty bad shape, having been repaired many times. Grand America Jukebox customized a complete NEW refrigeration assembly
And now, we can set up your Coca Cola Vendo 39 soda machine to vend the new 12 oz Mexican Coke bottles as well

We can fully restore your V-39 starting at est
Or, we can partially restore your V-39 starting at est
---
Final Operations
---
Westinghouse Coke Machine Restoration
Grand America Jukebox also restores and repairs Coke / Coca Cola chest soda machines as well. Pictured is a Coca-Cola Westinghouse WD-12 soda machine we restored. Chest soda machines are very versatile, having no actual vend mechanism, just a large open area. They can hold beverages as well as food. They also remain cold longer than an upright soda machine. For the WD-12 Coca Cola Machine pictured, we performed a full restoration, added two-tone paint and a NEW cooling system

Before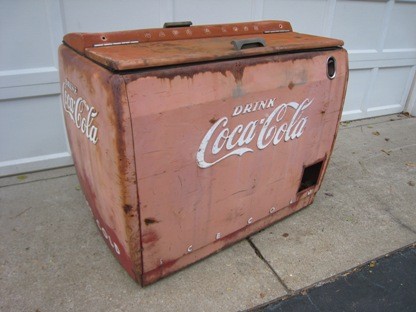 A very rough, original Westinghouse WD-12 Coke 2 lid chest box. We chose to add two tone paint for a newer, fresher look

After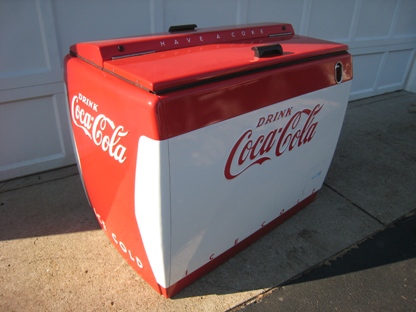 Before After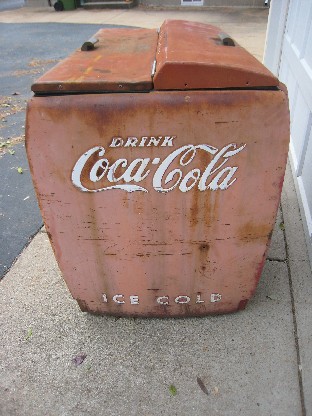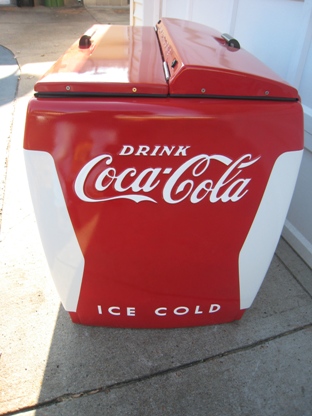 The Westinghouse WD-12 Coca Cola machine came in solid red with red lids as did the next series Westinghouse built, the WH-12. Later, in 1956 they added two-tone paint with a stainless steel lid in the front to the WH-12. We simply added the two-tone paint

Before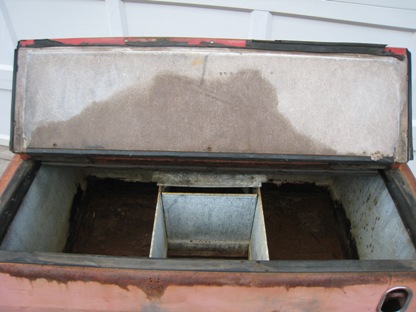 After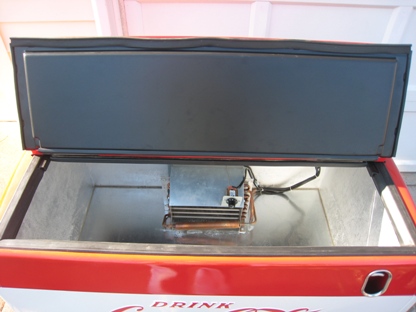 Brand new plastic lid liners and all new gaskets
Inside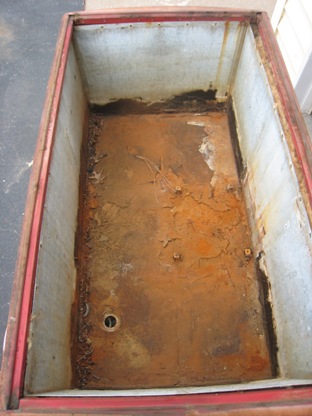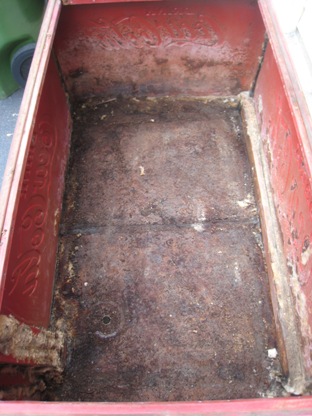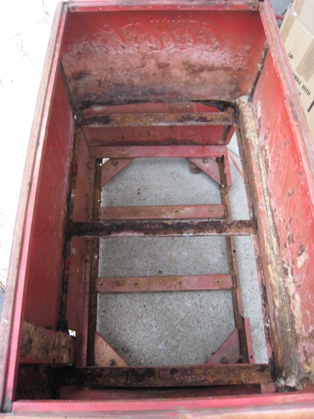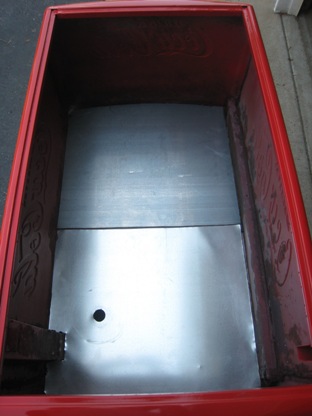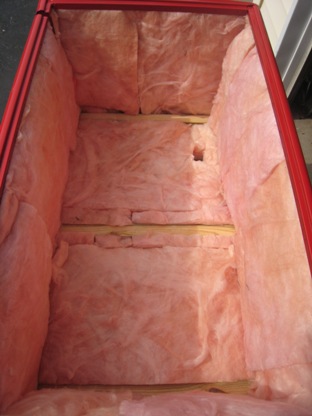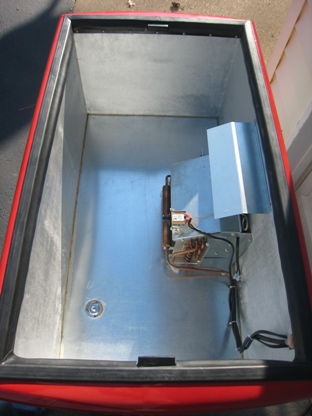 Backside before
This Westinghouse WD-12 was rough! It sat outside for many years unused and neglected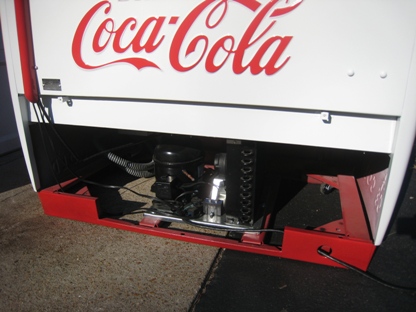 After a full restoration and a new cooling assembly, the WD-12 is ready for many years of service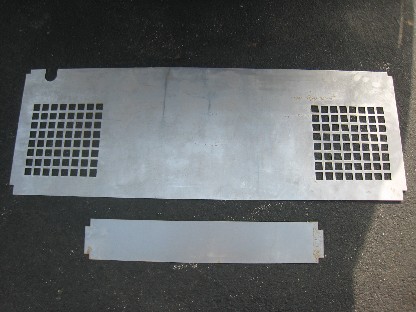 The back cover was missing. We made a pattern and cut it out with a water jet machine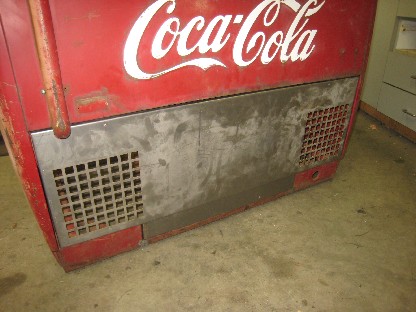 We bent and fit the new cover, then welded it together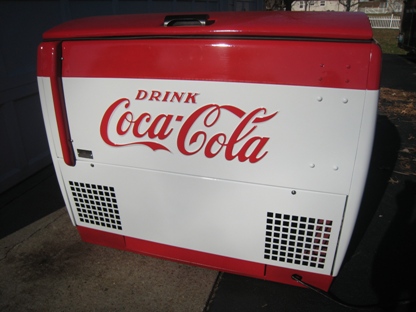 After paint, we have a nice, removable back cover. The WD-12 has the cooling lines run up the back, left side of the machine as pictured. The next series Westinghouse made was the WH-12 which had a different cooling system. So, the lines ran up the center of the back and it had two "Drink Coca-Cola" signs

Full restoration of your WD-12 / WH-12 starting at est
---
Grand America Jukebox can also convert chest soda machines into "Coca-Cola Soda Bars"
---
Contact us at 636-928-1010 or e-mail doc2stat@yahoo.com
---
( Photos are for reference ONLY, these machines are not for sale )
More Before and After Photos
Coke Vendo 56 Restoration
Before After
Late 1950's Coca Cola Vendo 56 before and after. This V-56 Coca Cola machine arrived in very rough shape, after our Vendo 56 restoration it is better than when it left the factory
We can fully restore your V-56 starting at est
Or, partially restore your V-56 starting at est
---
Coca-Cola Vendo 110 Restoration
Before After
This Coke Vendo 110 soda machine was a nice, untouched original. This V-110 arrived to our shop as a pretty solid candidate for a restoration. It was missing the shelves inside which we located for our customer. After our Vendo 110 restoration it is better than when it left the factory. The model V-110 is the same basic machine as a Vendo 6-CV except for the coin mechanism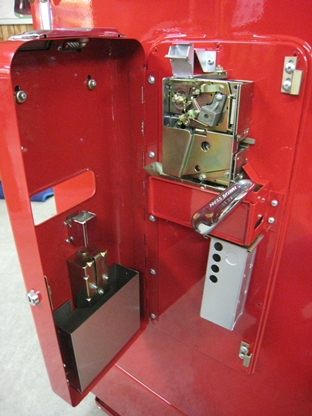 The Coca Cola Vendo 110 coin mechanism area after our full restoration. We yellow zinc plated the coin mechansim, chrome plated the handle, replaced the cap catcher with a new stainless steel one and detailed everything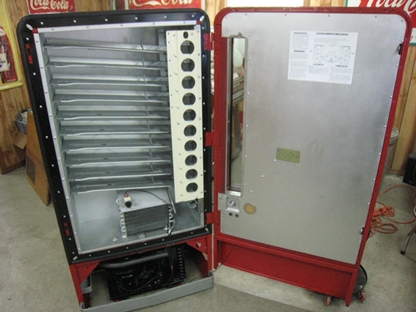 Inside the Coca Cola Vendo 110 after our full restoration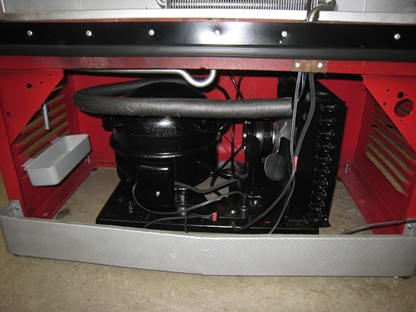 We were able to restore the original compressor in this Coca Cola Vendo 110. New fan motors, thermostat and all new wiring will make this V-110 last for many years to come

We can fully restore your V-110 or 6-CV starting at est
Or, partially restore your V-110 or 6-CV starting at est
---
Coca-Cola Vendo 83 Restoration
One completely restored Vendo Coke 83 soda machine on the left and another V-83 having just arrived in our shop for a restoration
We can fully restore your V-83 starting at est
Or, partially restore your V-83 starting at est
---
Coca-Cola Cavalier 96 Restoration
Before After
This Cavalier 96 Coke machine arrived to our shop in very rough shape boasting a 70's paint scheme. This CS-96 had survived a fire and then suffered heavy rusting, major dents, a wasp nest and it was missing some parts. After our Cavalier 96 restoration, it now has the factory paint scheme and works better than when it left the factory
Cavalier Coke Machine Restoration
Before After
Inside the Coke Cavalier 96, showing how much rust there was to repair. And after our full restoration. The Cavalier model 96 is the same basic machine as the Cavalier model 72 with less selections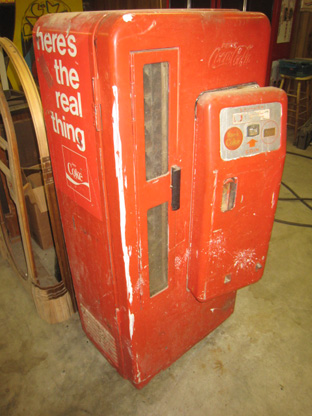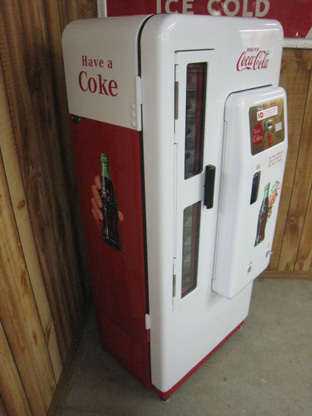 Before After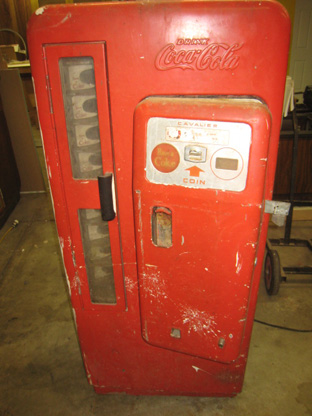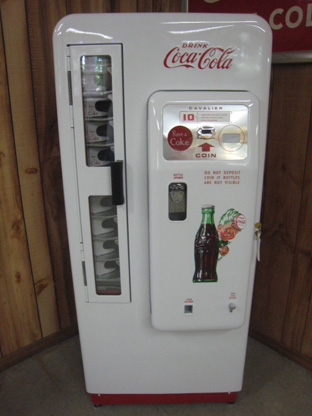 This is an example of a Cavlier model 72 we fully restored for our customer

We can fully restore your CS-96 or CS-72 starting at est
Or, partially restore your CS-96 or CS-72 starting at est
Here is an example of a 1960's Cavalier 96 Square Corner
Before After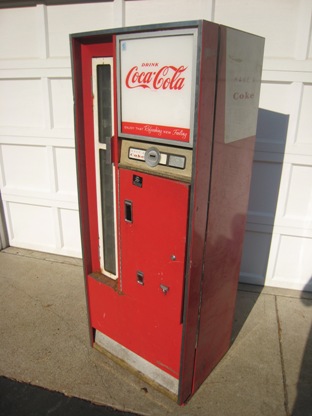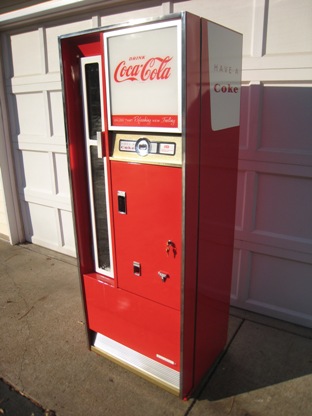 Before After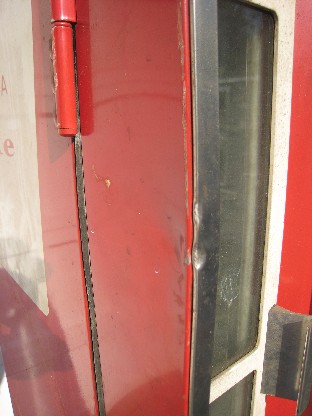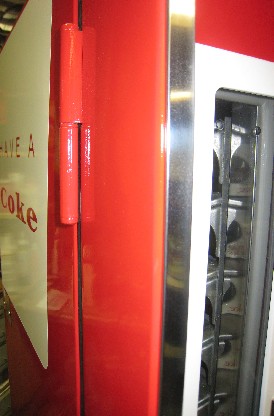 Before After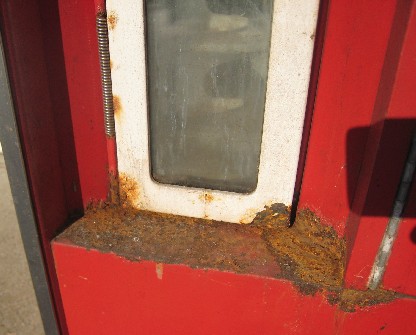 Before After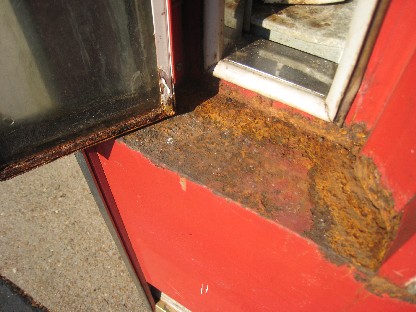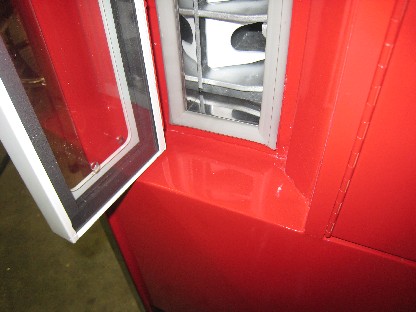 Before After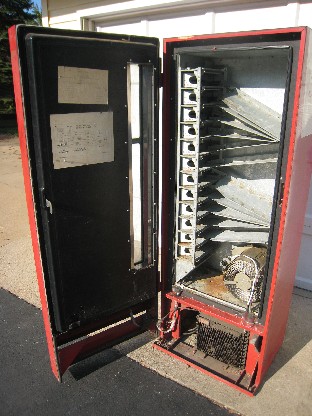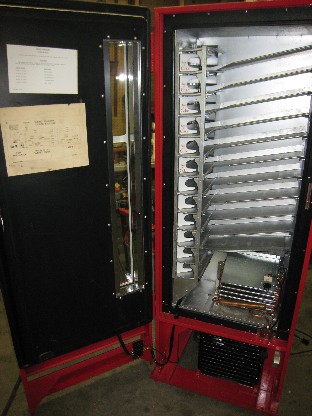 ---
Coca-Cola Slider Restoration
Before After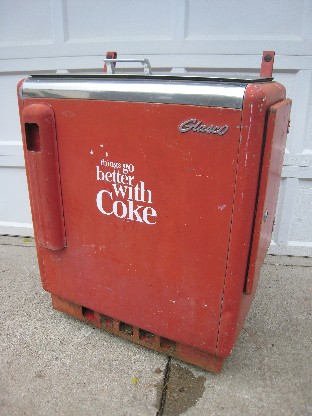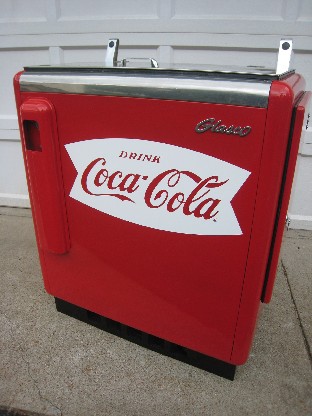 Top Lid Before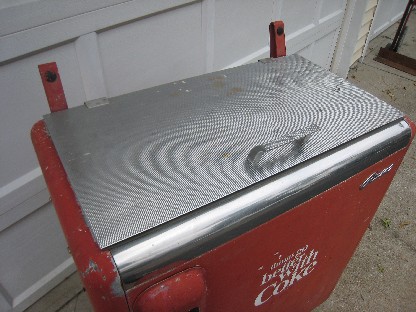 Top Lid After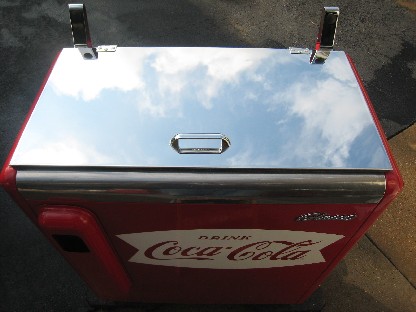 Inside Top Before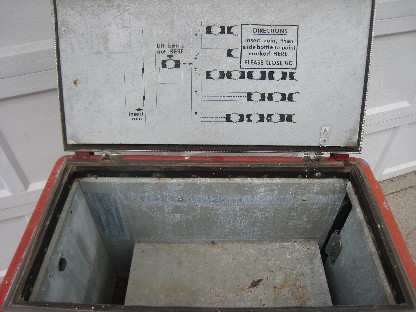 Inside Top After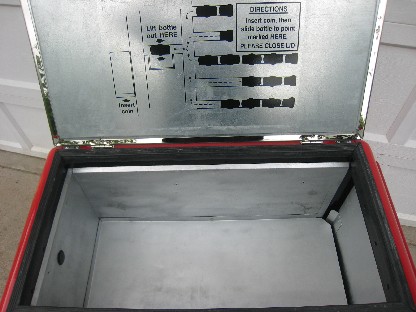 Before After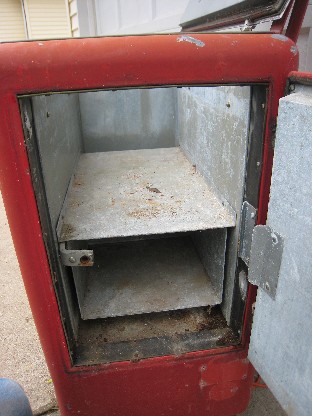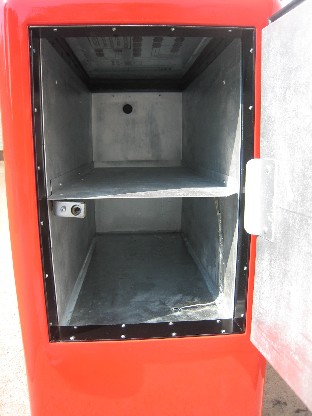 Before After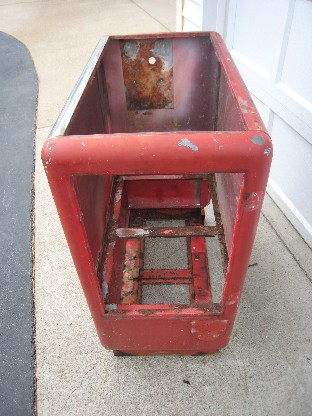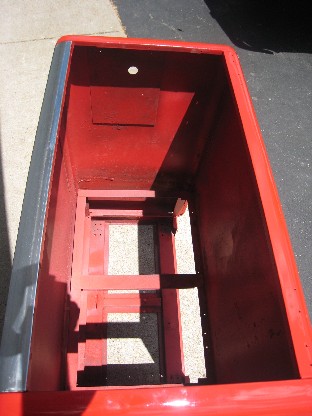 Installed new cabinet bottom and insulation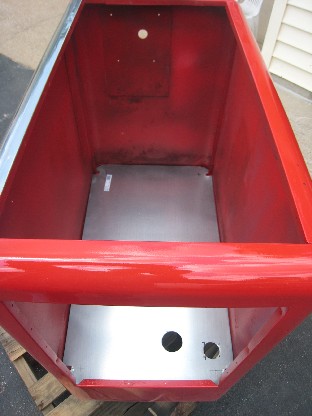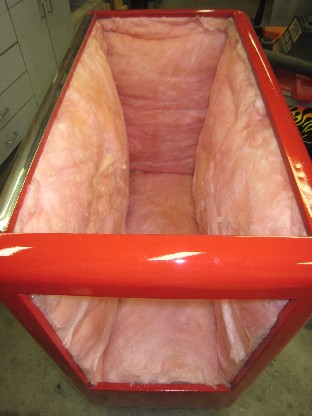 After installing the liner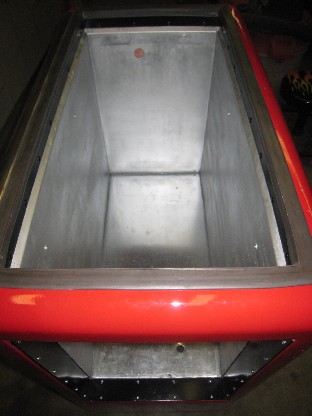 After installing a NEW compressor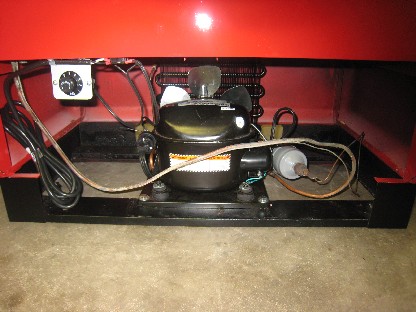 Here is the Fully Restored Coke Glasco Slider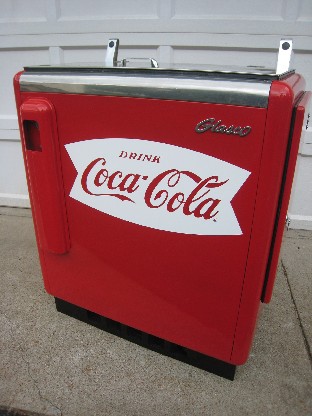 This Glasco Slider model GBV-50 is the same basic machine as an Ideal Slider model 55
We can fully restore your Glasco or Ideal Slider starting at est
Or, partially restore your Glasco or Ideal Slider starting at est
---
Westinghouse Chest Coke Machine Restoration
Before
A very rough original Westinghouse WD-20 Coke 4 lid chest box. We added two tone paint for a newer, fresher look

After
We replaced the two front lids with a counter top. Accessing beverages is now done via the top rear lids. We installed a complete, new refrigeration system, replaced all the gaskets, insulation and applied a two tone paint scheme
Vintage Soda Machines For Sale
All Refurbished Vintage Soda Machine Sales from Grand America Jukebox include:
Technical support ( telephone diagnosis and repair )

Crating and worldwide shipping to your home is available ( extra charge )
The restoration process takes at least two months. So, get your order in now and have your freshly restored vintage soda machine
Coca Cola Machines For Sale are:
Vendo 81B Coke Machine Vendo 39 Coke Machine VMC 44 Coke Machine Ideal Slider 55 Coke Machine

Vendo 81 Coke Machine For Sale

1956 Vendo 81B Coca Cola machine for sale. This is a great size machine for any home. Not too big and not too small. It was designed to hold 81 bottle of the original 6-1/2 oz bottles up to 12 oz long necks. So, you can store many things inside from bottled soda to beer. You access your choices from the front glass bottle door. The Vendo 81 Coke Machine For Sale we have in stock now, is currently undergoing a full restoration and will be finished in time for the upcoming holidays. We require a 40% deposit to begin work, the remaining 60% is due upon completion. The whole restoration process will take at least 2 months. We do not get the Vendo 81 Coca Cola machines in too often. Do not let it get away
Contact us at

636-928-1010

or e-mail

doc2stat@yahoo.com
Coca Cola Ideal Slider Soda Machine For Sale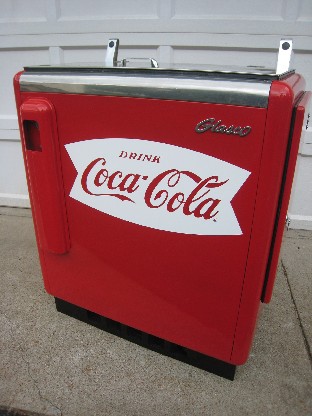 New arrival to our shop. This is a Coca Cola Slider type soda machine. It will require a full restoration which means, you get to choose how you want it done! The front panel is completely flat. So, we can make this machine into another flavor if you wish, Pepsi, 7-up, or ?? What ever you want. This restoration will not include any vending mechanism. However, we can add it on if you wish for extra. Most customers choose to have us restore these Slider soda machines without the vending mechansim. This leaves a large open area inside the cooling area so, you can place bottles, cans or even food. This machine will also come with a Brand NEW Cooling System. The machine in the photo above is for reference ONLY, in order to show you what this model machine could look like when done. We require 40% deposit in order to begin the restoration process. The remaining 60% will be due uppon completion. The whole restoration process will take at least 2 months. Please contact us to purchase this machine and get your completely restored Slider soda machine by Summer 2014
Dimensions: 38" tall, 33" wide and 18" deep
Contact us at 636-928-1010 or email doc2stat@yahoo.com

Vendo 39 Coke Machine For Sale
The Vendo 39 Coke machine For Sale will hold 39 bottles total. It offers a single selection and will accept the small 8 oz Coke bottles or 7 oz pony beer bottles. We require a 40% deposit to begin the restoration process. Remaining 60% due upon completion. The full restoration process will take at least two months. Please contact us to purchase this machine and get your fully restored Vendo 39 Coca Cola machine now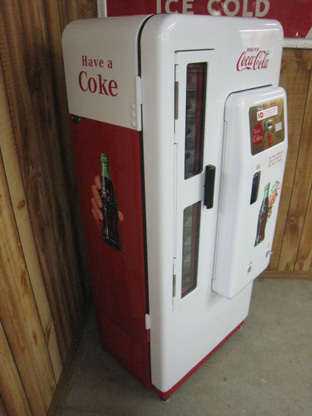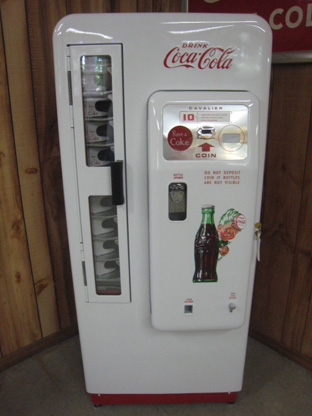 Here is an example of how the Cavalier 72 will look after one of our full restorations

Contact us at 636-928-1010 or email
doc2stat@yahoo.com
VMC 44 Coke Machine For Sale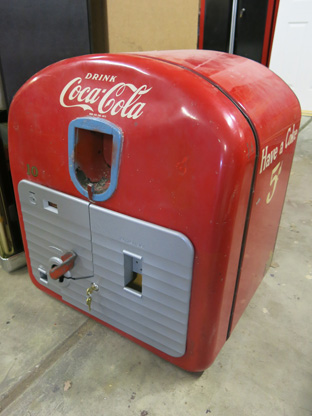 This machine just arrived in our shop and is actually in pretty nice shape, having been restored back in the 1990's. This VMC 44 Coke Machine For Sale was the narrowest Coca Cola vending soda machine Vendorlator made. The VMC 44 vends 44 of the small 8oz Coke bottles and is very cute. Made in 1956. Please keep in mind, this machine has just arrived and we have not yet performed any work to it. The Fully restored price will include everything. The Partial restoration price will include, cleaning the machine inside and out, buffing the exterior paint, new door gasket, and we will go through the vending mechanism and rewire the compressor as well as install a new power cord

Contact us at 636-928-1010 or email doc2stat@yahoo.com

Updated 6-2-14

---